Conmutadores Riser insertados
Manufacturing Commutators With All Riser Types
Commutators with inserted risers can often be found in large to very large high-power DC Generators and Motors. At EMCC we can repair, re-insulate or re-engineer your Inserted Riser Commutator. 
Inserted risers are generally comprised of flat copper strips with a high silver content and come in various shapes and lengths, depending on the application it's used for. Commutator Riser styles and shapes can be customized to suit winding/coil leads. Each riser is fit into a notch or slot machined into each of the commutator segments. Each riser strip is then brazed or T.I.G welded into place.
V-ring, glass banded, and external shrink ring commutators can all have inserted risers. Commutators with inserted risers are often less desirable than commutators with solid risers because of their susceptibility to stresses and vibrations within the motor or generator. However, in many circumstances, because of the extremely long risers, they are the most viable and economical solution. In some cases, insulated spacers and or braided rope with a thermosetting resinous material may need to be installed. This will provide an increase in resistance to stress without increasing the mass of the riser.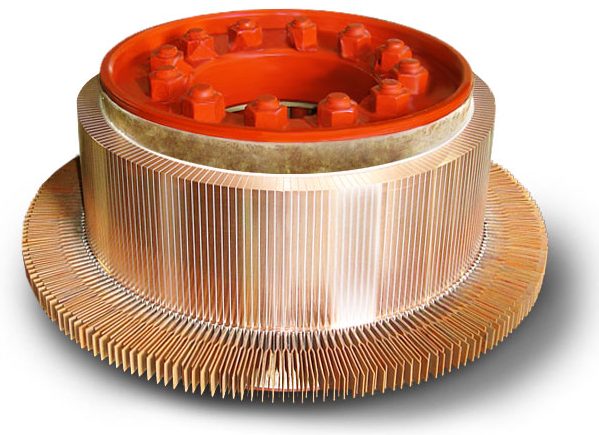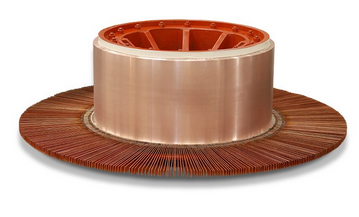 Capacidades de fabricación de conmutadores
Re-fill, Re-design, Reverse Engineer, or Complete New

Reparación o re aislador del conmutador (cuando corresponda)

Tamaños de 3 ″ a 60 ″ de diámetro

Juntas de vuelta, elevadores insertados

Agujeros de enfriamiento, ventilacion, llaves

Agujeros atornillados, escalonados, placas de equilibrado

All Inserted Riser Types
Glass Banded Commutators w/ Inserted Risers

Experimentado y 100% Probado

Technical Support Staff

Alto Contenido de Plata Aleacion 116 Material de Barra de Cobre

Servicio de Emergencia

Tiempos de respuesta mas rapidos

Entrega en todo el mundo
Emergency Commutator Repair Services
When failures occur, EMCC has the capacity and ability to work around the clock to manufacture or service the Inserted Riser Commutators and Coils you need. Our 24/7 state-of-the-art production capability allows EMCC to deliver unmatched quality, with the best turnaround times in the industry. 
Soluciones integrales de conmutadores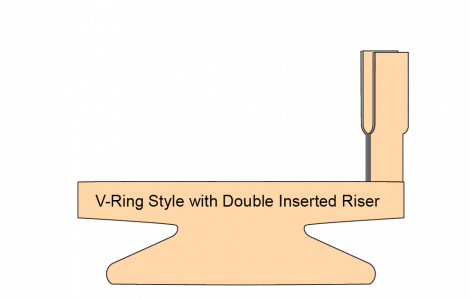 Copper Segment Profile

Above is the profile of a typical copper Bar /Segment of a V-Bound / V-Ring Style Commutator with a double inserted type riser. Each inserted riser strip is either brazed with silver solder, Tig welded or riveted into place. Silver solder is the industry's preferred method.  This process happens before the assembly of the copper mica segments.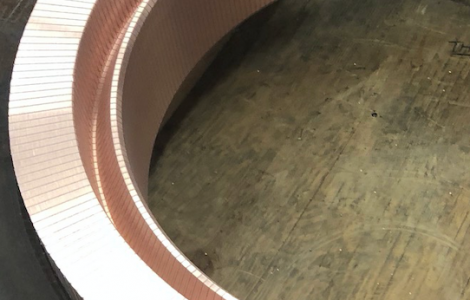 Rebuilding & Refilling
EMCC specializes in the rebuilding and refilling of Inserted Riser Commutators. We have been manufacturing Commutators for large industrial motors for over 35 years. Our commutators are in critical rotating equipment around the world from power generation, mass transit, to elevators.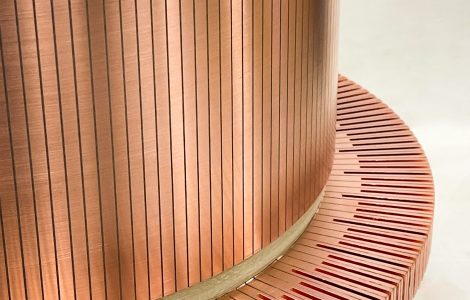 Obtener cotización de conmutador
Fabricación de conmutadores de última generación